LACCS-UK IS AN INDEPENDENT AND NON-PROFITABLE ORGANISATION FOUNDED IN LONDON (1983), WITH THE AIM TO CONTRIBUTE AND PROMOTE CULTURAL UNDERSTANDING AMONGST NATIONS ACCREDITED TO THE COURT OF ST. JAMES'S IN THE UNITED KINGDOM.

THE YEAR 2020 AND 2021 MARKS THE 37th & 38th ANNIVERSARY OF LACCS-UK WORKING IN SOCIAL AND CULTURAL DIPLOMACY, WITH SPECIAL ATTENTION TO THE MUSIC OF THE WORLD.
Latin American and Caribbean Cultural Society has been working since 2015 as LACCS-UK, promoting global understanding of the culture phenomenon in the 21st century with its historical changes and interdependencies.
JR MONROY EMERITUS PROFESSOR
Founder and Hon. Chair LACCS-UK
38th Anniversary Programme 2021
****0****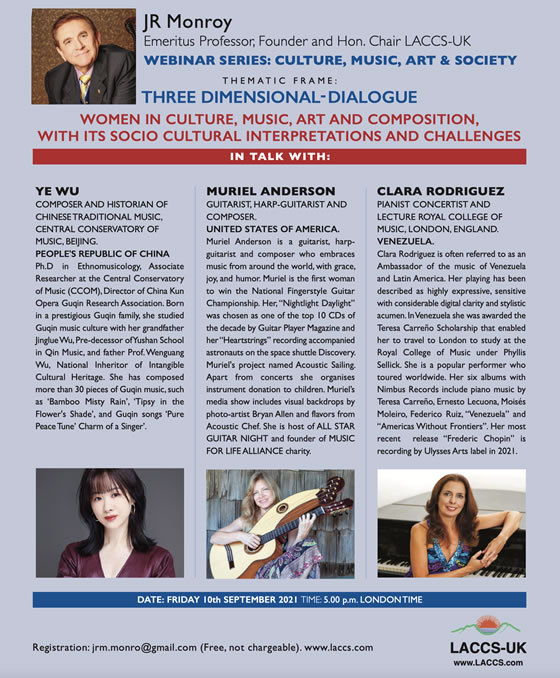 THEMATIC FRAME
THREE-DIMENSIONAL DIALOGUE
WOMEN IN CULTURE, MUSIC, ART AND COMPOSITION WITH ITS SOCIO-CULTURAL INTERPRETATIONS AND CHALLENGES
FRIDAY 10th SEPTEMBER 2021
TIME: 5:00 UK-LONDON Time
LACCS-UK is pioneering in the field of Cultural and Art Sociology and is proud to present Webinar Series: Three Dimensional-Dialogue, with three international artists-musician women panelists: Professor YE WU, contributing with her professional experience and knowledge in the field of Chinese Ancient Music, Maestra MURIEL ANDERSON, unique artistic personality with an extensive repertoire. With her own music and style she will enrich the discussion of the panel. CLARA RODRIGUEZ, is the voice of Latino-music, an awakening of the latin-sound in contemporary classical repertoire, she will talk about her experience as an international classical pianist.
LACCS-UK Sixth - Webinar is focussed on three historical experiences in the process to create music with its particular harmonies, tonalities, rhythms, forms, etc. In summary: A unique cultural- artistic-sociological encounter to be analysed with enjoyment and gracefulness.
To register please email: jrm.monro@gmail.com
A Few Words by J.R.Monroy, Emeritus Professor, Hon. Chair.
LACCS-UK Webinar Series Culture, Music and Society, has been a successful initiative and experience to contribute to supersede the present crisis in the Arts in general and in particular with classical Music around the world.
To discuss the lesson of the past in relation to composition and performing art Emeritus Professor J R Monroy, Founder and Hon Chair of LACCS-UK is inviting three distinguish composers also performers of classical guitar to interchange professional knowledges and to let us known about their intellectual experiences writing music to be published and to be memorised for a live concert or for a recording studio. How music and composers social roles are evaluated in society? Is Music a useful educational tool in transitional societies, such as Americas, Africa, Asia? Why is European classical music a global model to be followed? Could it be alternative music references or rhythms from less industrial societies useful contributions to enrich the universal conception of music? This and other questions will be analysed in this coming LACCS-UK webinar.
Covid-19 pandemic has changed our social habits and affected our daily domestico and working life, a new phenomenon of social-discomfort have started influencing social routines and people's family and working lives. What to do in this complex social circumstances when authorities are learning how to control and to guide us to avoid health problems and economic catastrophes?
This epidemic is in a process to becoming part of our present culture, associated with our common customs and beliefs in different parts of the globe, accordingly to their respective level of understanding and social capacity to confront it and to find rational transitorial solutions. How far, and in what respect, science is collaborating to alleviate this global pain and to protect millions of human lives, which today are in danger of being contaminated and to be erased from the surface of the planet earth. We all pray to find a definitive scientific solution to this malefic pandemic virus.
Culture and Music as intrinsically concatenated in all types of Human Society, primitive, modern or super-industrial. Moreover, The Cultural Evolution of mankind contributes to enhance the social role and importance of music in any society, tribal or civilized with different historical evolution.
Our webinar will be focussed in the present phenomenon of music and its social-cultural inter-relations and how music, culture and society are part of one and unique phenomenon to create music, to entertain and to educate individuals and crowds. We will focus our dialogue on personal experiences of composers, performers and musicians, shall we say, all of them, intellectual craftsmen of the performing art and with a unique role in society.
According to our understanding their intellectual work not only contributes to knowledge but also is part of the Human Spirit and its place deep in mankind-society. In essence, Music and Culture opened up the unlimited possibilities of improving the moral and intellectual conditions of mankind.
I hope LACCS-UK webinars will awaken an intellectual debate to upbringing a more comprehensive role of music in society and in the Cultural Evolution of the present Homo Sapiens.
********************0********************