VLADISLAV BLAHA, Guitar
Vladislav Blaha studied at the Brno Conservatoire with Arnost Sadlik before going to the Liszt College of Music in Weimar, Germany, where he graduated as a student of Roland Zimmer. In 2004 he received Doctor of Arts degree after study on the Academy of Music in Bratislava, Slovakia. Masterclasses with Costas Cotsiolis, Abel Carlevaro and, with the aid of British Council Fellowship, study in England with Gordon Crosskey (Royal Northern College of Music) and John W.Duarte in London completed his formal learning.
Blaha achieved international recognition as winner in four international guitar competitions in: Volos/Greece , Esztergom/Hungary, Kutna Hora/Czech Republic and Markneukirchen / Germany. He received medale bronze in Radio France International Competition in Paris.
Blaha has given concerts in most European countries /Royal Festival Hall and Conway Hall in London, Radio France in Paris, etc/ in addition to U.S.A. /N.Z., Chicago, L.A., Dallas,Portland, Miami,etc/, Asia /Japan, Indonesia, Vietnam/ and Latin Amerika /Cuba, Mexico, Peru/. His richness of expression, together with his brilliant virtuosity and stylish interpretation give cause for much critical acclaim throughout the musical world. He has released various CD, radio and television recordings.
He is Professor of guitar at Conservatoire and on Janacek Academy of Music /Music College/ in Brno, he frequently gives masterclasses on music colleges and performs on festivals in USA, Japan, Mexico, Germany, Austria, England etc.
Blaha´s repertoire includes concertos for guitar and orchestra by: J.Rodrigo (Concierto de Aranjuez, Fantasia para un gentilhombre), M.M.Ponce (Concierto del Sur), C.Kohout (in F, E, A) A.Vivaldi (in D, C), W.A.Mozart (in B), A.Carulli and J.Haydn. Twentyseven composers from 16 countries have been so inspired by Blaha's performances, that they have dedicated works to him (J.W.Duarte: Moraviana, N.Koshkin: Usher Waltz, pieces by M.Tesar, F.Kleynjans, A.Tucapsky, Stedron etc).
Blaha performs regulary together with other international recognized musicians:
Violin-Guitar Duo - Jaroslav Sveceny, violin ( Vivaldi, Loeillet, Paganini, Handel, Bach, etc.)
Brno Instrumental Trio /violine, guitar and accordion/ and in
duo with Jaromír Záme?ník, accordion (Vivaldi, Piazolla, Janacek, Stedron, Martinu etc.).
Blaha is president of Czech Classical Guitar Society and since 1992 director of the International Guitar Festival and Courses BRNO.
RECORDINGS
Blaha recorded seven solo CD´s, and another 6 CD´s as soloist with other musicians.
- CD/MC PRONTO (1991) - SUITES BY BACH & WEISS
J.S.Bach: Suite BWV 995, S.L.Weiss: Suites N.I and N.XIV
- CD PEHY (1993) - THE SPANISH GUITAR
Rodrigo, Llobet, de Falla, Granados, Albeniz
- CD ROTON (1996) /RT 001-2131 - CZECH GUITAR WORKS
Eben, Tucapsky, Tesar, Stedron, Matys, Zamecnik, Rak, Janacek
- LP PANTON 1987, CD ROTON (1998) /RT 002-2131:
CONCERTOS FOR GUITAR AND ORCHESTRA BY PONCE AND KOHOUT
M.M.Ponce: Concierto del Sur, K.Kohout: Concerto in E-Major /world premiere recording/
- CD ROTON (2000) /RT 003-2131: CITHARA POETICA
Št?dro?, Tesa?, Novák, Martin?ek, Bodorová, Rak, Koškin, Kleynjans
/world premiere recordings/
- CD ROTON 004-2131 (2001): AMERICANA - WORKS BY J. W. DUARTE
- CD PiVOX 2004: GUITAR WORKS BY MILOS STEDRON
contact and info: vlblaha@sky.cz, http://vlblaha.sky.cz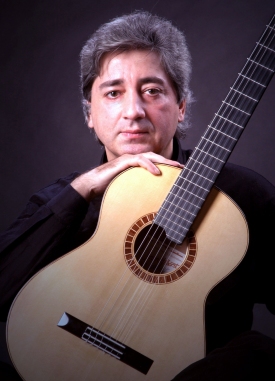 VLADISLAV BLAHA - SELECTED PRESS COMMENTS
All through the recording Blaha´s playing and tone is exemplary. I recommend this recording whole-heartedly…
10 / 2003, CLASSICAL GUITAR MAGAZINE , England
Vladislav Bláha gave it a remarkable performance. 8 / 2002, CLASSICAL GUITAR MAGAZINE
Blaha, who had impressed his audience at his previous appearance, surpassed himself this week. He ranks with the best of the best among todays group of exceptional classical guitarists. 3 / 2002, THE GREEN BAY NEWS-CHRONICLE
It was a surprise for us to hear such a great guitarist, whose name should become even more famous in the guitar world. He has a solid technigue and a deep appreciation for music. We hope to see him during hit next concert tour of Japan in June 2002, and we cant wait for this occasion. 3 / 2002, CLASSICAL GUITAR MAGAZINE
"Bláha's performance reveals a great sense of precise rhythmical and melodic interpretation of the pieces. In view of musical impressiveness and general lucidity of Duarte's compositions and Vladislav Bláha's performing mastery, this recording stands a good chance of getting recognition among experts as well as being popular among general public interested in music."
3 / 2002, HUDEBNI ROZHLEDY /MUSIC VIEWS/ - MAGAZINE, CZECH REPUBLIC
... performed impressively aptly in a most polished way (about CD - Cithara Poetica)
12 / 2001, GENDAI GUITAR - MAGAZINE , JAPAN
Vladislav Bláha, always a resourceful guitarist, has picked out some very appealing music, and it is unnecessary to say that he plays it with his usual high professionalism and polish. 10 / 2001, CLASSICAL GUITAR MAGAZINE, ENGLAND, COLIN COOPER
An altogether excellent CD with top class playing and excellent recording quality. 8 / 2001, CLASSICAL GUITAR MAGAZINE, ENGLAND, STEVE MARSH
An enthusiastic audience at Saltash Library recently gave a good reception to Czech guitarists Vladislav Blaha, one of the leading players on classical guitar. He demonstrated skill and sensitivity for the music. NOV. 23, 2000, GAZETTE, ENGLAND
Vladislav Blaha may less well-known to the public than Elliot Fisk, John Williams or Norbert Kraft but he yields nothing to them in either technique or musicianship. One could admire his striking facility and the wide range of colors he could summon at will, always in the service of the music. MARCH 24, 2000, RESORTER REPORTER, USA
The final event in this year concert schedule featured a superb classical guitarist from Brno, Vladislav Blaha. ...this interpretation to be definitive one. MARCH 21, 2000,GREEN BAY NEWS, USA
Concert of Vladislav Blaha was a musical experience of the highest artistic statement. His musical expression is exact until the smallest detail. FEBRUARY 8, 2000, BURGHAUSER ANZEIGER, GERMANY
Richness of emotionality, outstanding virtuosity and exact stylistic interpretation - this we listened during his concert. JULY 1, 1999, NOWINY GLIWICKIE, POLAND
A superb concert. Highest virtuosity and delicacy sound nuances are his priorities ... AUGUST, 1999, SCHWEINFURTER TAGBLATT VOLKSZEITUNG, GERMANY
Vladislav Blaha is splendid musician, master of his gentle instrument. MAY MAY 1998 CHICAGO / THE VOICE OF NATION, U.S.A.