BERTA ROJAS

Born in Paraguay, Berta Rojas has brough her lyrical gifts to such far-flung cities as London, Salzburg, Vienna, Bonn, Rome, Budapest, Washington, Sao Paulo, Santiago de Chile, Montevideo, and Buenos Aires. Berta Rojas debut in the Royal Festival Hall in 1992 was a great artistic success, under the auspicious of the Embassy of Paraguay and the Latin American and Caribbean Cultural Society (LACCS-UK). Her debut in the Royal Festival Hall was dedicated to the music of Agustin Barrios Mangore, one of the most important composer for the classical guitar in Latin America.
Berta Rojas is a Dorian Recording artist, with two CDs released: "Concierto Latinoamericano" and "Intimate Barrios".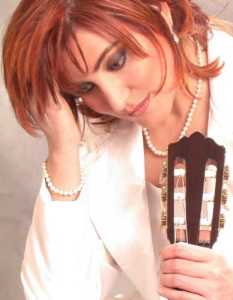 In 1996 she was selected as a Kennedy Centre Fellow of the Americas in recognition of Artistic Excellency by the John F. Kennedy Centre for the Performing Arts in Washington D.C. This fellowship, as well as the one granted by the Organisation of American States in 1997, allowed her to undertake post graduate studies at the Peabody Conservatory in USA.
Berta Rojas holds a Bachelor Degree in Guitar from the Escuela Universitaria de Musica de Uruguay, and a Masters Degree with honours from the Peabody Conservatory, John Hopkins University, USA.
..."The jam-packed Purcell Room enjoyed every minute".
Colin Cooper, Classical Guitar. England 1992
... "Berta Rojas, guitarist extraordinaire."
Mark Adamo
Washington Post, USA, 1993.