LACCS-UK PUBLICATION:
THE CONCERT PROGRAMME

OSCAR OHLSEN, Baroque Guitar and
EDUARDO FIGUEROA, Theorbo.
Baroque music by Gaspar Sanz (Zaragoza 1674),
Chilean and Peruvian works of the XVII century
and EUROPEAN PREMIER of Baroque Manuscript (1722),
by SANTIAGO DE MURCIA, recently discovered in
Santiago, Chile.
LEIGHTON HOUSE MUSEUM,
Tuesday 7 August, 7.00 PM.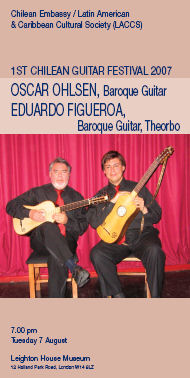 To download the Concert Programme click on the relevant pages below.
You will need Adobe Reader.
---